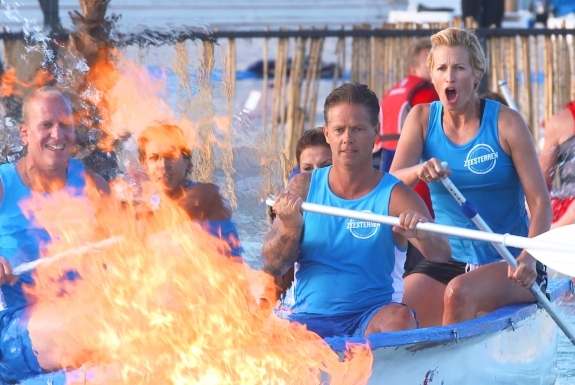 In 2016 komt RTL 4 met de nieuwe spelshow Zeesterren. In deze show die gepresenteerd gaat worden door Irene Moors strijden twee teams met elkaar in heftige en komische spellen op het vasteland en in het water. Uiteindelijk doel is de winnaar worden van Zeesterren 2016.
De kandidaten van Zeeslag
De mannen die deelnemen zijn Victor Reinier, Rintje Ritsma, Dirk Zeelenberg, Danny de Munk en Everon Jackson Hooi. De vrouwen die deelnemen zijn Anouk Smulders, Josje Huisman, Leontine van Moorsel, Barbara Barend en Toprak Yalçiner. Zij reizen gezamenlijk naar Turkije waar ze bij aankomst verdeeld worden in twee teams. Na de teamverdeling krijgen beide teams Jamai Loman of Gerard Joling toegewezen als teamcaptain.
Heftige en hilarische spellen
Vier afleveringen lang nemen de Bekende Nederlanders het tegen elkaar op in heftige en hilarische spellen waarbij samenwerking, tactiek en uithoudingsvermogen een grote rol spelen. Tijdens de spellen zijn het Maik de Boer en Mari van de Ven die als scheidsrechters kijken of alles wel eerlijk verloopt. Daarnaast beleven de BN'ers genoeg avonturen in Turkije die wij als kijker natuurlijk ook te zien krijgen. Zeesterren is vanaf 4 januari wekelijks te zien om 20.30 op RTL 4.