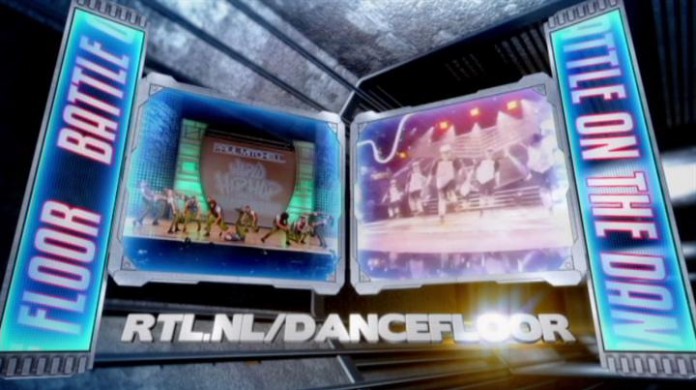 RTL 5 komt vanaf woensdag 20 januari 2016 met het nieuwe programma Battle On The Dancefloor. In deze nieuwe afvalrace nemen achttien dans-crews het tegen elkaar op.
De jury van Battle On The Dancefloor
Onder leiding van Jan Kooiman strijden de teams met elkaar op de ovale dansvloer die speciaal voor de show is ontwikkeld. De jury van Battle On The Dancefloor bestaat uit Dan Karaty, Timor Steffens en een nog onbekend jurylid. Zij gaan samen bepalen wie de beste dans-crew van Nederland is.
Real life battle op straat
Naast dat de crews tegen elkaar strijden nemen ze het ook op tegen de dansvloer. Elke aflevering eindigt met een Battle On The Dancefloor. Dit betekent dat op het moment dat de jury niet onder de indruk is van de dans-crew dat zij een stuk van de dansvloer laten krimpen en dit zorgt ervoor dat de ruimte om te laten zien wat ze kunnen steeds kleiner wordt. De dansers moeten er alles aan doen om de ruimte op de dansvloer te behouden of terug te winnen. Doordat de acts zich erg snel afwisselen in de arena lijkt het op een real life battle op straat.
Op weg naar de finale van Battle On The Dancefloor
Battle On The Dancefloor telt zes kwalificatie-afleveringen, twee halve finales en één grote finale. In elke kwalificatie-aflevering nemen drie teams het tegen elkaar op en per aflevering kan er maar één dans-crew door naar de halve finale. De kwalificatie-afleveringen bestaan uit vijf ronden: de introductie van de drie teams, de tweede tot en met de vierde ronde met bijzondere battles (waarna één team is uitgeschakeld) en een finale dance-off tussen de twee overgebleven teams.
De winnaar van Battle On The Dancefloor
Na de kwalificatie-afleveringen zijn er nog zes finalisten over. Zij nemen het in twee halve finales die uit vijf rondes bestaat tegen elkaar op. De winnaars van deze halve finales gaan direct door naar de finale. De verliezers strijden nog één keer voor de laatste plek in de finale. Op woensdag 16 maart is het uiteindelijk tijd voor de drie beste dans-crews te laten zien waarom zij de beste dans-crew van Nederland zijn. Uiteindelijk krijgt de winnaar van de finale een eigen dansshow.
Inschrijven Battle On The Dancefloor
Zijn jullie een getalenteerde dans-crew van minimaal 8 dansers en durven jullie de battle aan te gaan op de dansvloer? Schrijf je dan nu in voor Battle On The Dancefloor via de officiële website.