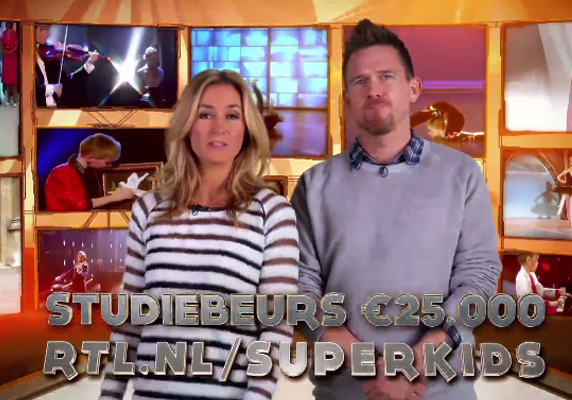 RTL 4 is voor het nieuwe programma Superkids op zoek naar getalenteerde kinderen van 6 tot en met 14 jaar. In Superkids dat gepresenteerd gaat worden door Wendy van Dijk en Johnny de Mol gaat RTL 4 op zoek naar nieuwe jong talent. Superkids biedt een podium voor kinderen die denken een supertalent te bezitten. De winnaar van Superkids maakt kans op een studiebeurs van 25.000 euro.
Aanmelden voor Superkids
Dus oefen, train of studeer jij elke dag om nog beter en beter te worden in hetgeen waar jij goed in bent? Kun jij goed dansen, viool spelen, piano spelen, drummen, goochelen of heel iets anders? Schrijf je dan nu samen met je ouders in via het inschrijfformulier.
Promo Superkids